CAPEZIO
Capezio Ultra Soft Stirrup Tights Ladies
Ladies Ultra Soft Stirrup Tights by Capezio Style No. 1961
Self knit waist ultra soft stirrup tights from Capezio feature a stirrup foot that can be pulled up and worn around the ankle if needed.
Tights provide great support for all types of dance.
Features include a comfortable 1"/25mm waistband and moisture wicking Coolmax® gusset that has been dyed to match for a uniform look.
The combination of Nylon and Spandex material means they will hold their shape, remain durable and look great!
Stirrup Tights Details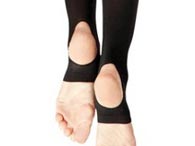 86% Tactel® Nylon, 14% Spandex
Self knit, elastic-free waistband
Recommended care: hand wash cold and hang dry
Availability:
Usually Dispatched in 48 Hours
Shipping:
Calculated at Checkout